» Industry » Lucky Jets takes flight in hanger at Henderson Airport launch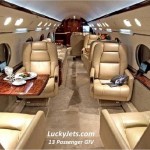 In a dynamic city where launch parties are as ubiquitous as the ultra lounges they regularly introduce, the take-off of Lucky Jets in Southern Nevada stands out like a well-executed, taildragger landing in the three-point attitude. Successfully conceptualized for a market segment that positions issues of Robb Report on an ostentatious coffee table for curious eyes, good-looking, privately-invited business executives and the well-heeled gathered to partake in hand-passed hors d'oeuvres, an open bar and tours of luxury private jets inside a hanger at the Henderson Executive Airport, 11 miles southeast of Las Vegas.
Lucky Jets is a unique operator: a sort of ride-share program for those who find commercial flying too imposing, and seek the intimacy of a private jet albeit flying with strangers or simply dead-heading to some luxury destination. Put your tray table in the full upright position and fasten your seat belt!
And who wouldn't want to fly private if given the chance? The polished 2008 Beechcraft Premier 1A business jet staged just inside the hanger beckoned you and your designer luggage with cozy interior, guaranteed window seat and new car smell.
That's a lot of toy. But toys were plenty.
The Kurt Busch Foundation was selling $100 raffle tickets for a smart-looking 2009 Dodge Challenger and that's OK, but when a lime-green $200k strong Lamborghini Gallardo sauntered inside the hanger it stole the four-wheeler show. Yet the prize for conspicuous consumption potential (as witnessed via multimedia presentation) had to be Italian luxury yacht manufacturer Azimat–these bad boys of the open water range from $750k to a cool $15 million. Not that Lake Mead ever sees one!
Good neighbors Monarch Sky opened their hanger doors to join the Lucky block party with their sexy staff and brochures on flight school and flying club.
But the appearance of John Lear in the audience was certainly a treat for those familiar with the aviation world.
"John is the mosted decorated pilot around," says Reza Karamooz, CEO of Lucky Jets. "He has flown every type of aircraft around and has more pilot certifications from the FAA than anyone else."
How nice to be in such high-octane company for the launch of this new service to Las Vegas. Keep your wheels up, Lucky
By Jay Barber, Catalina Media Group