» Uncategorized » Fashionista Joey Galon sees "24-hour Catwalk" as springboard to clothing line launch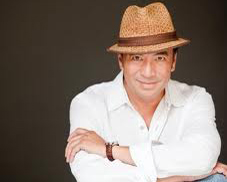 The best candidate for "24-Hour Catwalk" might just be coming from a 24-hour town.
That's seems to be the perspective dyed-in-the-wool fashionista and Las Vegan Joey Galon is bringing to the sewing and cutting tables at New York-based Lifetime Television for his shot at 24-Hour Catwalk, a new reality show that pits budding fashion designers against each other for a cash prize and an opportunity to launch a signature clothing line.
"It's a dream come true–a big step toward launching my own line," said Galon. "And I'm terribly excited about it!"
The new Lifetime reality show scheduled to air this fall, gives four talented fashion designers per episode the chance to create their own collection in just 24 hours…more like a New York minute even for a quick-working, creative fashion designer. After a first cut, challenge and elimination, the competition whittles down to two designers, each tasked with creating a themed collection for their own star-studded runway show.
But the Filipino-American, who maintains strong ties to the western Pacific island nation and who travels there regularly, need not be intimidated by competition. Galon's fashion designs have been maturing and as a result they've been frequently spotted on pageant runways. In fact, at Miss Asia USA 2010, Ariana Manibog Varela, the then reigning Miss Philippines, wore his stunning lavender floral gown with headdress. The result: she won best in cultural costume and swept the title. She also benefited from Galon's expertise as a pageant coach.
As a modeling, pageant and personal growth coach, Galon reveals — through his Runway4Life project — a remarkable array of additional talents. It's this specific set of skills that not only helped Varela win Miss Asia USA but also put him on the radar at nuvoTV, an English-language cable network that caters to the bicultural Latino population. They selected him to serve as a 13-episode, resident guest judge and coach for Model Latina Las Vegas—a modeling competition that premiered nationwide on August 15.
"Dreams are ageless," notes Galon. "I feel truly blessed about the goodness and timing of this exceptional opportunity. It's further evidence to me that one never knows when a long-held dream will manifest itself;   you must always be ready for dreams to come true. And I'm ready."
To be sure, the trained fashion and textile designer with his marketing, public relations and special events background is ready for the Lifetime challenge. He's produced high profile fashion shows and worked on numerous pageants such as Miss Philippines USA (a preliminary to Miss Philippines Universe), Miss World and Miss International. Galon has provided his expertise as a staff member for Miss USA and Miss Universe. He's launched fashion-related products, created design sets, choreographed shows and worked exclusively with top couture houses such as Bob Mackie Fashions, Thierry Mugler, Oscar de la Renta and Hubert de Givenchy. But his crowning achievement was very likely the official launch of Joey Galon Atelier at Miss USA 2010 in Las Vegas, giving him an opportunity to showcase his collections to the pageant world.
So as friends, colleagues and well-wishers prepare his New York sendoff at a popular Vegas gathering spot, Galon will be hoping Lady Luck is his mistress for the trip to Lifetime's New York production studio: he'll certainly ensure she's dressed to the nines for 24.
By Jay Barber, Catalina Media Group
Filed under: Uncategorized