» Entertainment » Peepshow has the nursery rhymes you won't find on the kiddie bookshelf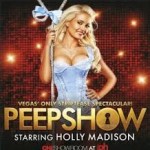 Ex-Hawaiian Tropic model and Hooter's waitress Holly Madison has a few to offer at Planet Hollywood around 9 p.m in the PH showroom. The Peepshow headliner is currently making her first week of appearances on stage with a selection of adult-themed nighttime stories familiar to most of us including classics like Peter, Peter Pumpkin Eater and Three Men in a Tub.
The simple plot finds Little Bo Peep, Madison's character, drawn to an adventure down nursery rhyme row looking – not for lost sheep – but rather a way to enhance her knowledge of the birds, the bees and the butterflies. With the help of a mentor/master/teacher, a figure generally known as the "Peep Diva," the audience experiences Bo Peep's gradual blossoming from seemingly innocent shepherd to sexy, sultry body-paint artesian: oh to be that audience volunteer helping in the sexual healing while handcuffed to a four-poster bed.
In truth, Peepshow is a burlesque act so expect the usual varieté and striptease, props and accoutrements. And then of course the entourage of sexed-up vixen backup dancers who titillate in heels, acres of bare skin and plump bosom. But the tongue-in-cheek question remains just how Bo Peep, who is on such a conscious search, could loose even a single member of her flock unless of course some of its sheep feared getting fleeced right there in the showroom!
Some good "fantasy visuals" to look forward to include a uniquely styled, giant pumpkin coach, three seemingly nude dancers teasing from inside a five-sided glass enclosure filled with a murky-milky brew in "Wicked Wendy's Ryder" and one quite ripped male dancer who performs splashing aerials in soaking wet jeans suspended above and actually lowered into a water-filled vintage clawfoot-style bathtub.
Thank goodness you won't find these erotic bedtime stories on the kiddie bookshelf, and while even non-parents know how the G-rated narratives end, the Peep Diva says it perhaps best of all about the X-rated version when near the finale she points out "we have to write their ending." Just let your fantasy roam young man!
One might indeed consider the bouquet of red roses presented to Madison after tonight's performance a welcoming gesture for the start of her first week in a headlining role, yet for the ensuing weeks one must hope the audiences keep coming and the Brothers Grimm provide the finishing pen stroke with a sweeping happily-ever-after flourish once the inevitable end arrives.
By Jay Barber, Catalina Media Group