» Entertainment, Featured, Travel » Offbeat road & rail weekend on SoCal Amtrak awaits adventurous Las Vegans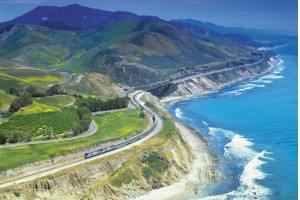 Adventurous Las Vegans will want to take advantage of an offbeat, quick but memorable road & rail weekend aboard Amtrak California's Coast Starlight and Pacific Surfliner passenger trains. You'll have to leave the Las Vegas Valley early but I-15 will most likely be void of traffic as you zip through the Mojave Desert on an early Saturday morning toward Union Station in downtown Los Angeles.
To be sure, this road & rail weekend is not necessarily about getting anywhere fast, but rather focused on the "journey" as opposed to the "destination"—two forces that often stand in juxtaposition to one another given the demands of limited time and hurried lives. Union Station is your initial destination; the journey unfolds aboard Amtrak's passenger train to San Luis Obispo – a quaint spot in wine country 190 miles north of LA.
You'll enjoy rail travel in part due to a minimally invasive footprint that allows trains to stealthily maneuver through town and country without imposing itself on the surrounding landscape in the same caustic manner roads and highways do. This affords passengers superior visuals, sightlines and photo opportunities. You'll see urban, agricultural and natural landscapes in an up-close, almost unadulterated form. In addition – when available – dining, sightseeing and parlour car amenities on long-distance passenger trains make rail travel a most enchanting experience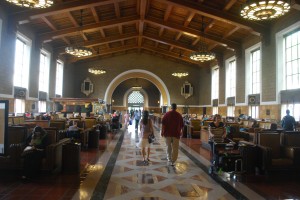 . Coupled with the opportunities for effortless social interaction, rail is an adventurous, entertaining and fun way to travel.
On Day 1 of your road & rail weekend, plan to leave Las Vegas at 5 a.m. for the four-hour drive to the striking Union Station railroad terminal in downtown Los Angeles. Long-term parking is available in the terminal's underground lot for $10 per day. The 10:10 a.m. departure of the northbound Coast Starlight will place you in San Luis Obispo at 3:35 p.m. The Starlight is a long-distance passenger train with daily departures between Los Angeles and Seattle, and completes the 1,377-mile route in 36 hours. However it does not stop in San Luis Obispo on its southbound return to Los Angeles until mid-afternoon. For this reason, on Day 2 you'll want to board the 6:55 a.m. southbound Pacific Surfliner, a West coast train with round trip service between San Luis Obispo and San Diego via LA. It arrives back at Union Station at 12:30 p.m. giving you plenty of time for the highway drive back to Las Vegas without feeling too rushed. Consider lunch at one of the many Mexican restaurants at historic Olvera Street, the oldest part of the City of Angels, just across from Union Station.
The Coast Starlight Superliner is a comfo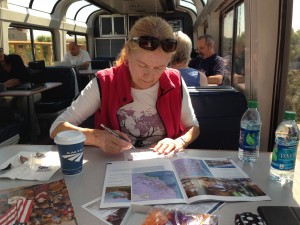 rtable, double-decker train with coach and premium seating as well as dining and sleeper accommodations. The Sightseer Lounge car offers floor-to-ceiling windows, table and individual seating for coach passengers. Coach seating is roomy and outfitted with comfortable nearly fully reclining seats offering plenty of legroom. Tray tables fold down and extend. Individual AC outlets power-up your cell phone, laptop and other devices. For sleeper passengers, the Pacific Parlour car features premium seating in a lounge with wireless Internet, a full bar, a small library with books and games, an afternoon wine tasting and a movie theater on the lower level. The full service dining car can seat up to 72 people and offers a varied menu for breakfast, lunch and dinner. Let the romance of train travel overtake you with a meal as you sip the house Cabernet while the scenery gently rolls by.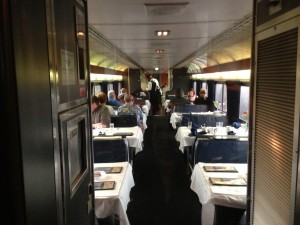 The Pacific Surfliner is likewise a double-decker train, but offers only coach seating without sleeper, dining or sightseeing car amenities due to its shorter route. Both trains have an on-board snack bar with a limited menu of carry-out items such as soups, sandwiches, sweets and snacks as well as alcoholic beverages and refreshments.
For the roughly two hour trip between Ventura and Vandenburg Air Force Base, the Coast Starlight snakes its way tightly long California's dramatic coast offering tremendous vistas that qualify as one of the longest ocean-view train rides in America—one aspect of the trip that will pepper your road & rail weekend with unforgetability. You'll get a similar view on the Pacific Surfliner during the return trip.
A partnership between Amtrak and the National Park Service called Rails & Trails puts seasonally-based volunteer docents aboard both trains along the most scenic part of the route. They provide interpretations of the area's history and scenic beauty. You can expect a nice education and causal conversation along with the great views.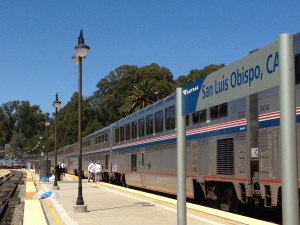 With a population of some 45,000 residents, San Luis Obispo or SLO Town is a college community halfway between Los Angeles and San Francisco. It's located in wine country populated by artisan vintners and family-owned wineries. SLO has the usual array of motels for every pocketbook and a short taxi ride should get you to your preferred stay within just minutes. Consider a visit to the beautiful Mission San Luis Obispo or stroll the charming downtown area.
Reservations for travel on Amtrak must be made prior to departure while seating assignments are made by an Amtrak ticket agent at the train prior to boarding. Depending on the season and date of booking, a one-way adult fare on the Coast Starlight between Los Angeles and San Luis Obispo costs $39. The return fare on the Pacific Surfliner runs $41. Ticket purchases can be made online at www.amtrak.com or by contacting an Amtrak customer care agent at 1-800-268-7252.
By Juergen Barbusca