» Featured, Travel » How water defined Guanajuato, Mexico and Venice, Italy
We arrive in Guanajuato, Me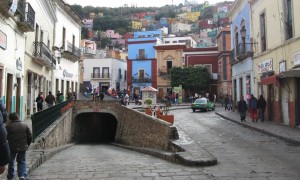 xico on Federal highway 110 late at night under a heavy rain. Despite our road fatigue and slight disorientation at the town's driving challenges posed by a maze of curvy, ever winding streets that take a quick dive underground and then later resurface, we embrace our destination instantaneously. In fact, we think we've arrived in Europe. Make that Italy. Correction: Venice.
Canals are to Venice as tunnels are to Guanajuato. Both municipalities have been shaped by water. It's well-known that water is an essential part of the charm and uniqueness of Venice even if it causes occasional flooding. Water provides mobility for the city's legions of gondolas. Water was there first; the city was build upon it.
Guanajuato at one time was also prone to flooding. The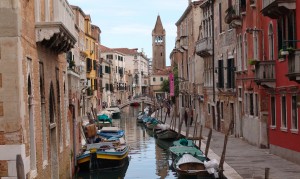 water came from a river that ran through the center of town. However tunnels were dug to divert the water and keep the city dry when the river swelled. After a dam was built to control the flooding, the network of tunnels was repurposed into vehicular roadways. The tunnels minus their water became part of the charm and uniqueness of Guanajuato.
Guanajuato now gives dry passage for road warriors through previously water-filled tunnels below the city, while Venice maintains a walled, watery corridor for gondoliers and v-hulled contrivances that skim along its surface beside the city. Or slightly above it depending on the flood stage.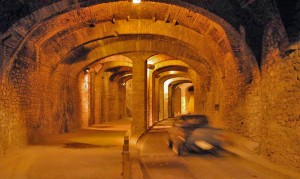 By daylight and dry weather we observe how Guanajuato and Venice share the characteristic of narrow streets (read: canals) shoehorned between rows of tall, colorfully plastered buildings that just barely allow room for the passage of vehicles or gondolas in a single file in a single direction. Both cities are stunning UNESCO World Heritage Sites whose splendor and originality is really best discovered on foot. Venice has the Biennale, Guanajuato has the Festival Internacional Cervantino—both are huge draws for the culturati and are embraced by tourism officials for the revenue and visibility they generate.
We're captivated by a Guanajuato cityscape bursting with color, hotels, restaurants, bars, cafés, markets, shops and plazas so reminiscent of Venice. They collectively form a vibrant, intriguing and undulating patchwork of architectural styles, elevations and ornamentation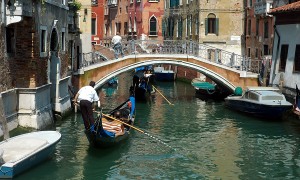 . There's a distinctive, unfussy hum in this smallish town of 160,000 residents; one might compare it to the ease of Venice and its 270,000 inhabitants.
But our thoughts don't stray far from the tunnels, canals and the influence of water; unique charms that any visitor to these two touristy villages would easily recognize and appreciate.
By Juergen Barbusca