» Entertainment » Matt Goss is Sinatra, New Vegas and Telecaster cool
At last night's show in The Gossy Room at Caesars Palace, I couldn't help noticing Matt Goss wore a wristwatch on his left hand, but his right hand was bare. My thinking is that someone who generates such
high levels of energy, exertion and output during the execution of his day job would want to record every calorie and footstep on a wearable fitness tracker. It's what people do these days.
But then again of what real use are such electronic devices to Goss when the only information that really counts is the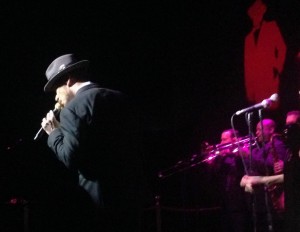 engagement level of his audience after the lights are dimmed and the performance begins. And he can measure audience engagement easily enough by direct observation with the naked eye.
As can I. So to say the audience wasn't engaged, stimulated and charmed during this two and a half hour marathon performance in the darkened and very intimate Gossy Room is not to fully understand how he capably and confidently draws-in those for whom he's performing and how they reward him with the signs of their appreciation: standing applause, cheek kissing, handshakes, at least one man-hug, a woman literally offering him her very expensive red lacquered sole designer heels, and a line of dedicated fans queueing-up after the show around midnight to heap more appreciation upon him.
I myself am particularly absorbed by the spontaneous, witty and funny – and at times poetic – conversations he strikes with audience members while milling about the room: playfully grabbing a cell phone from someone caught text messaging, then reading aloud (the real or imaged) messages from it before returning the device to the owner's table, hijacking a man's wife momentarily for a dance on stage while for their part as decoys the Goss dancers distract the man with burlesque hijinx, or walking the entire room – golden grilled mic in hand – to meet and shake the hand of quite nearly everyone in person. Rounds of drinks are purchased by Goss for one table. And he counts himself in on the rounds demonstrating that he can work a room and darn well sip Grand Marnier if he pleases.
But all of this says nothing about his music. From the stage he mentions he's sold five million records and has toured the globe. He sings his hits including "When Will I Be Famous" and numerous other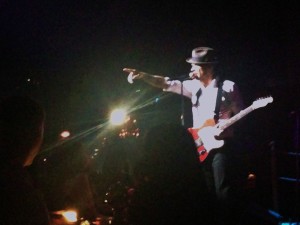 thoughtful compositions, as well as Sinatra standards. The mood is excitable. The audience appreciates the chicness of the well-attired Goss with his perfect fitting fedora, is captivated by the particular way he owns the stage, delights in his musical interpretations and easily succumbs to his soft skills that bring them around to the mood he creates. I start fantasizing about early-1960s Las Vegas cool. Specifically the Copa Room at the storied Sands.
And then shortly after ditching the suit coat and cufflinks, he lashes a Fender Telecaster around his back. He can play electric guitar too? This is about the time when the Great American Songbook is closed and a more modern jam session is opened. Bass and lead guitarists from his stage band move to the front alternatingly and kick-it with Goss. They infiltrate the audience. At one point we hear a remarkable rendition of  "Hotel California." Later, the horns join-in singularly and together to fill the room with brass sound. Goss plays and sings, sweats, gyrates, spins around like a gunslinger, continues to demonstrate his consummate playing and singing. His tattooed forearms balance the Telecaster. The audience sings too. Applauds. Another sip of Grand Marnier from his snifter handed to him from the front table. The Goss dancers appear – this time with showgirl headsets and boas – once again flaunting their sensuality and sexiness as Goss works the fretboard. He isn't wearing a fitness tracker so it's anyone's guess as to just how many calories he's been dumping during the two and a half hour marathon. To most it won't really matter.
As things draw to a close the Englishman from London mentions he comes from rather humble beginnings and that the four most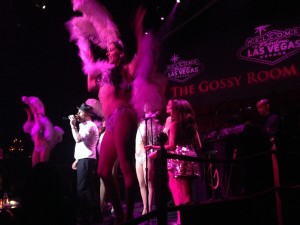 important words to him are, "Please. Thank you. Good morning and good night."
"Wow," I think to myself. "Those words are important to me too," as I contemplate the unexpected offering from Goss, then glance at my Fitbit. Seems I burned plenty of my own calories just watching him work.
By Juergen Barbusca